Our products
Our customized offer
Design of products with optimized performance for the most demanding applications in industrial environments.
You want to set up a complete, efficient and reliable RFID system?
Our RFID solutions are customized to optimize the performance and quality of your industrial processes and operations.
You are looking for the optimal product for your application?
Customization is more than a optional service, it's our business.
We develop solutions that meet the needs of our customers, with the promise of speed and return on investment.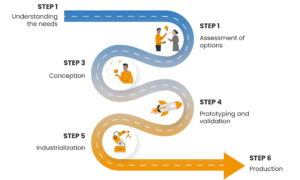 We develop the best RFID solution for your need, with efficiency and transparency!
We maximize the technical results of your RFID application to ensure that you get all the benefits of RFID:
Better ROI
Time saving
Quick inventory
Productivity gain
Money saving
The steps of the creation of a custom product
The production of your product in a few steps
01

Analysis of the environment and the application
Context of the RFID application
Environnement
Existing RFID system
Set objectives
02

Recommandations
Adaptation and/or creation of RFID chips and/or readers according to the application and the environment
03

Results
Optimized technical results
100% of the benefits of RFID
Examples of custom products