At AXEM Technology , team cohesion is a key factor in corporate commitment! This is why we are committed to making our employees happy and fulfilled at work. It is by being united that we can take up common challenges.
We are pleased to present the first collaborator interview in the #dailystory format, which aims to present several of the company's business lines and help you discover the talents involved in the development of AXEM Technology.
Today, we introduce you to Magdalena GEORGESCU, who has been working as a Customer Service Manager for almost 2 years.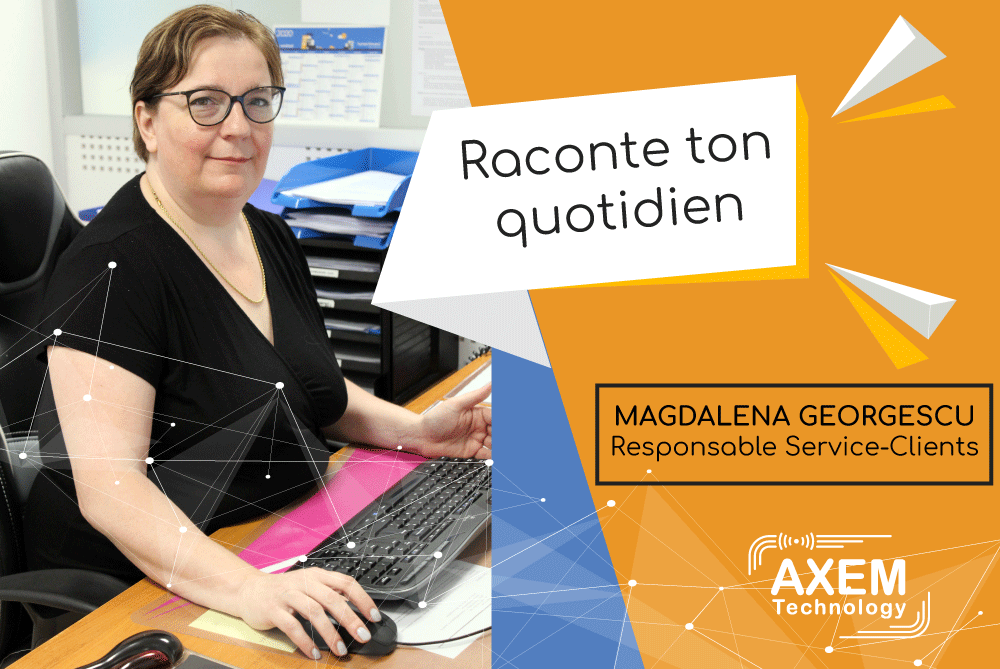 "Since the beginning of my professional career more than 23 years ago, customer satisfaction has always been my priority. A « Win-Win » relationship between the company and its customers is, in my opinion, the main asset of a successful partnership. Customer service is, for a company, its showcase, the main contact of its customers and the pivotal service that guarantees the proper functioning of other services. I felt this requirement within AXEM Technology. This is the reason why I joined them almost two years ago with the objective of accompanying and participating in the company's growth. I joined AXEM Technology in April 2019 at a key moment in its development, as I wanted a new challenge in a growing international society. The organisational sense, a transversal vision and a great sense of listening of the teams in place have been the assets that have enabled me to start the transition necessary for the success of the objectives expected by AXEM Technology. At AXEM Technology I found a team that places caring at the center of the company, thanks to the daily work of its Management. This translates into a desire to surpass oneself individually, which collectively contributes to the success of the company. I am convinced that it is thanks to this state of mind that we will succeed in getting through the period that has been shaking the world economy since the beginning of 2020."
Interview n°1 "Tell your story", MAGDALENA GEORGESCU - Customer Service Manager