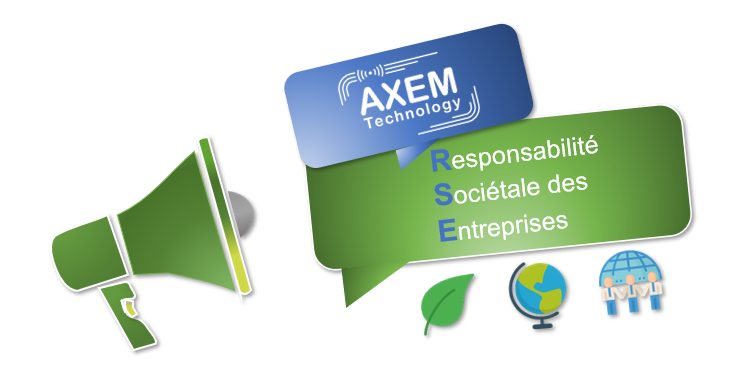 AXEM Technology, committed to CSR (Corporate Social Responsibility) by its founder and CEO Philippe MONDON, was graduated at the end of the « Companies of tomorrow » program, organized by Bpifrance. After winning the "Youths in Business Trophy" and the Gold Award "CSR Entrepreneurs", we are therefore actively pursuing our actions in favor of sustainable development and collective well-being.
Identify its responsible actions
"When we were contacted by the CECAP (Val-de-Marne group of companies) in 2017 to compete for the CSR label, we made an inventory of our actions, and we found out that we had implemented a CSR approach, without having formalized it" remembers Marie Correia, Administration & Customer Service Manager, responsible for the CSR. Philippe MONDON, CEO & founder of AXEM Technology, has in fact always instilled in his company principles of respect and equality, as many SMEs for which CSR has always been part of their DNA, but do not structure the process. After obtaining the CSR Gold Award, Bpifrance offered us a 5-day training course on CSR. It allowed us to identify the strategies that we had already initiated and the major areas of development that we had the real capabilities to pursue.
Among the actions implemented by AXEM Technology, let's mention some of them:
Optimization of goods transport and travel plan
As an equipment supplier, we import many products and components; we were able to assess our carbon footprint and decided to better rationalize our purchases and to favor maritime transport, which is less polluting.
We have also put in place a travel policy for our employees, giving preference to the train rather than the car.
Awareness of our employees
At AXEM Technology, everyone strives to respect eco-gestures (water, electricity, heating…), and to use eco-friendly products. We apply the principles of non-discrimination, equality and parity. These behaviors are grouped in a welcome booklet that we give to our new employees upon their arrival in our company.
Collaborate with reintegration cells
We welcome trainees from the Second Chance School of Créteil (E2C94), which gives young people without a degree the means to forge a professional future.We work with ESAT Val-de-Marne, which aims to the social and professional integration of adults with disabilities.
We have decided on a number of actions to be implemented quickly:
Drafting of an internal regulation.
In line with our welcome booklet, it will commit all our employees to the principles of respect for others.
Definition of a purchasing charter.
This is an ambitious project, because product traceability is not always easy. But we want to make sure that all our suppliers, direct or indirect, respect production conditions that are respectful of human beings and the environment.
Establishment of the carbon footprint of our site in Créteil.
We will determine good practices in terms of waste management and optimization of our energy consumption.
Customer satisfaction questionnaire.
Because that's also what CSR is all about: a close relationship with its customers, the ability to listen to their suggestions for improvement.
The human being at the center
AXEM Technology 's commitment to a CSR approach was essentially motivated by the conviction that human well-being must be a central concern of any company.
Making our policy CSR a collective commitment
For a CSR approach to work in a company, for it to continue, for it to improve, it must be a collective project. We will also look for ways in which we can bring all our employees, and also our customers, suppliers, partners, in this movement of the future. All our employees have ideas. How to group them, think about them, concretize them? The success of a CSR approach also involves effective communication, internally and externally.
Everyone wins in a CSR approach. Customers, who favor an ethically irreproachable production. Companies, which can make it a long-term performance lever. Employees who participate in their well-being at work. And of course, the whole population that is evolving in a more just and sustainable world.